SBR is able to offer a wind range of consultancy support in topics from field measurements of wind and other environmental parameters; structural engineering and wind loading; vehicle risk from cross-winds to welfare and comfort issues. Our work is based on years of scientific research experience with many published scientific studies in these areas.
We offer a unique solution to each client and are able to provide scientific reviews, consultancy advice to your staff or to undertake entire projects on your behalf. Previous clients include Network Rail, Arup, Buro Happold, University of Nottingham, University of Durham and many others. Contact us to discuss your requirements.
Examples of our work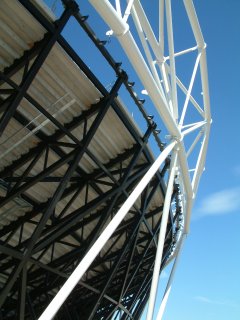 Wind measurement and consultancy for the Olympic stadium site.
Wind measurement and structural dynamics of the Millennium footbridge, London.
Measurement of wind conditions for high speed rail.
Guidelines and codification of results.