Moving Model Rig - applications
click here for non-railway applications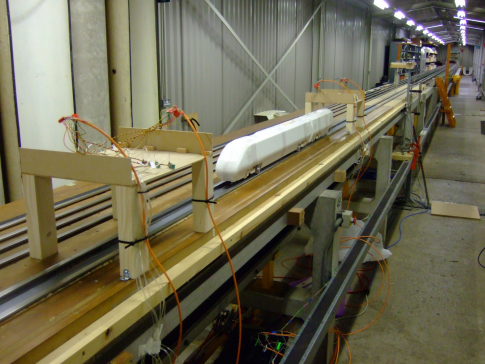 The TRAIN rig is one method of carrying out aerodynamic investigations on trains. Its specific advantages are:
It avoids the uncontrolled ambient conditions and expense associated with full scale tests, and model test geometry can be varied relatively quickly and cheaply
Unlike conventional wind tunnels and CFD, it can be used to investigate transient phenomena, such as train passing, slipstreams etc.
It can be used to calibrate/validate computational models of train tunnel pressure transients
The use of full scale train speeds ensure Mach number similarity when undertaking tests of pressure wave phenomena in tunnels
Typical examples of studies that can be performed include:
investigations into the effects of cross-winds on train stability
slipstream studies (at the trackside and on station platforms with and without cross-winds)
effect of train shape (development of the aerodynamic design of new trains and improvement of existing trains
determination of train empirical factors for unsteady flow predictions in tunnels
exploration of methods for the alleviation of transient pressures in tunnels
investigation of primary wave steepening in tunnels and the development and alleviation of micro-pressure waves
Click here or go to YouTube to see a video of the rig in action!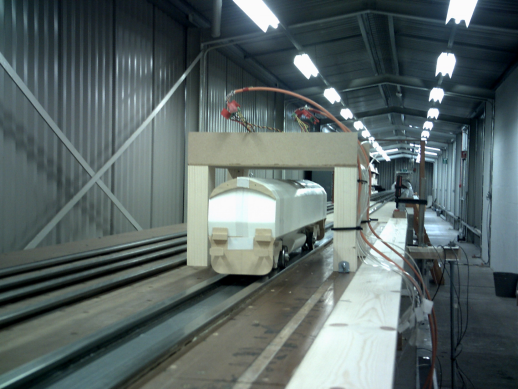 The rig has been used in the past for a range of different types of test:
Tunnel pressure transients for a variety of types of train
Aerodynamic design of train noses
Pressure pulses around trains in the open air
Ventilation flows in cross passages
Train slipstream behaviour
Determination of pressure loss coefficients and friction factors for trains
Some of this work is described in the following papers